From birthday parties to playdates, our indoor playground is the perfect place for kids to burn off energy and create lasting memories.
Kids Space Indoor Playground – the perfect place for your children to explore a world of excitement in our unique space-themed play world! Our playground is designed to cater to all ages, including toddlers and kids aged 5 to 11 years old.
We offer a variety of ways to celebrate your little ones' special occasions with six different Space themed party rooms.
For an exclusive experience, we also provide opportunities to hire out the entire venue for your guests. At Kids Space, we believe in making your kids feel special and giving them an unforgettable experience.
Kids Space was founded with the goal of providing a safe and fun indoor playground for children of all ages. We have continuously improved and updated our play equipment and facilities to keep up with the latest trends and technologies. We have also expanded our services to include party packages. We have implemented strict safety protocols and hygiene measures to ensure that our play area is safe and clean for children to play and learn.
We are proud to have provided countless children and families with fun and memorable experiences over the years, and we look forward to continuing to do so for many years to come
Magical world where food and fun come together!
Parents can relax and enjoy a cup of coffee while their little ones embark on culinary adventures of their own. Let's dive into the exciting world of food and coffee at Kidspace!
We use fresh and high-quality ingredients, and our meals are prepared with care to ensure that they are healthy and tasty. Come and join us at Kidspace where imagination meets culinary delights. We can't wait to welcome your family to a world of food, fun, and fantastic coffee!
We are open 7 days a week. from 9.30 AM – 5 PM during regular hours (Hours may vary for Public Holidays)
Entry price includes access to all the play equipment for the specific age group, and for parents where preferred – a designated area to relax while keeping an eye on their kids.
*Adults are admitted for free.
*Multiple entry passes are available.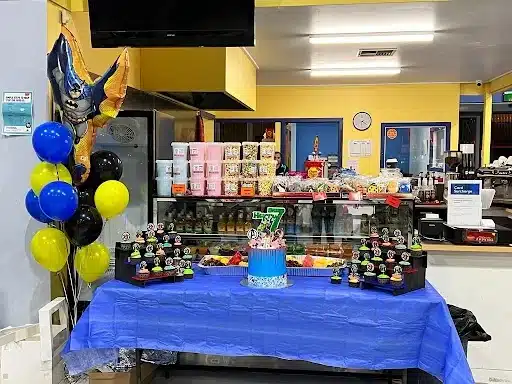 Are you looking for a fun and stress-free way to celebrate your child's birthday or any special occasion? Look no further than the party and private hire packages available at Kids Space!
These packages typically include exclusive use of a designated party room or area, as well as access to all the play equipment and activities in the play area.
The party packages often come in different tiers or levels, offering a range of options for the number of guests, duration of the party, and additional features such as food, decorations, and party favors. Some packages may include a dedicated party host or hostess who will help organize and oversee the party activities, allowing parents to relax and enjoy the festivities.
Click through to read more on our hire options.
*Larger crowds may incur additional charges.
At Kids Space, safety and security are our top priorities. All of our play equipment is regularly inspected and maintained to ensure it is in top condition and safe for use. We also have trained staff members who monitor the play area and ensure that children follow the rules and play safely.
We have implemented strict safety protocols to ensure that our play area is free from hazards and dangers. Our staff members undergo regular training on safety procedures, emergency response, and child supervision, so you can rest assured that your children are in good hands.
Our goal is to provide a safe and secure play area for children to have fun and explore, while giving parents peace of mind knowing their children are in a safe environment.